2019 Forum Focus : Part 3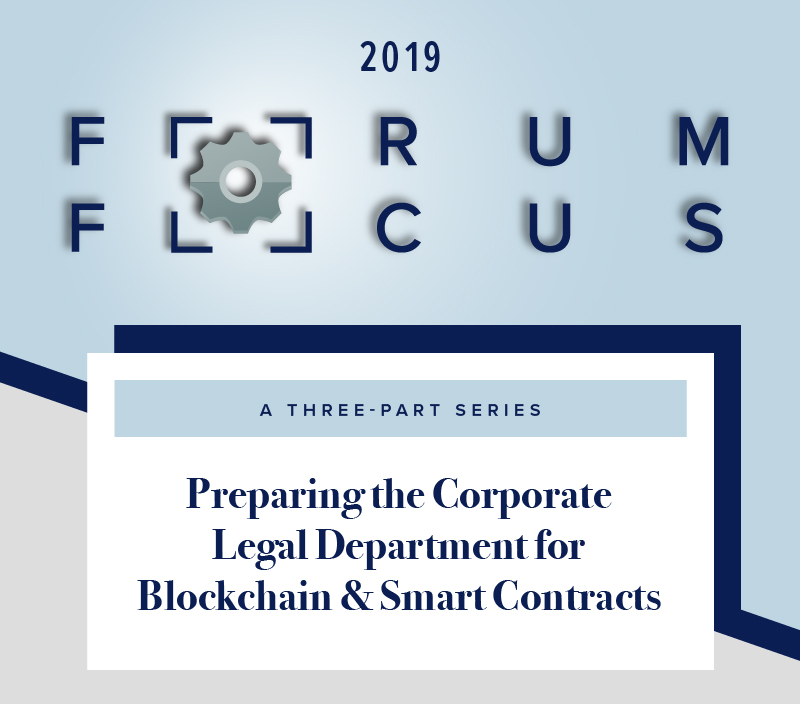 Join us for this year's three-part Forum Focus Series as industry leaders discuss blockchain and smart contracts, including the legal and regulatory issues you may face as you navigate your business through these innovative technologies. 
Who Should Attend
This program is beneficial to all members of the Legal Department as well as members of senior leadership interested in use cases for blockchain technology, including streamlining logistics management, new approaches to finance functions and modernizing IT and security procedures.  The program will help all attendees understand the potential of blockchain and how it may impact the business decisions they make now and in the future.
Note: In-House Members are welcome to attend one, two or all three sessions.
---
PART THREE: What are Smart Contracts and What Risks and Opportunities Do They Present?
Some of the best applications of blockchain technology involve smart code and smart contracts.  Yet few businesses have thought deeply about the risks and opportunities they present.  How are smart contracts being used in real commercial transactions?  What is the difference between smart code and smart contracts?  What are some of the risks and challenges of using smart contracts?  This session will answer those questions.
Hourly Schedule
Part 3: Tuesday, October 22
5:30 PM

-

6:20 PM

Arrival & Networking

Light food & beverages
6:30 PM

-

7:30 PM

Part 3 Program

<b>What are Smart Contracts and What Risks and Opportunities Do They Present?</b><br>Some of the best applications of blockchain technology involve smart code and smart contracts. Yet few businesses have thought deeply about the risks and opportunities they present. How are smart contracts being used in real commercial transactions? What is the difference between smart code and smart contracts? What are some of the risks and challenges of using smart contracts? This session will answer those questions.

Speakers:

Mark Rasmussen, Sean Whyte